If you have furniture that no longer suits the colour scheme and style of your home, but they are pieces that are still in great condition and/or mean something to you then why don't you think about restyling it?
Kimteriors offer an hand painted furniture service. Having your own furniture painted means you get to keep that perfect and tailor it to your own colour scheme plus it's great for the environment.
Fusion is our favourite brand of paint and as part of the commission service we will send you a Fusion Fan Deck so you can browse the many, many colours that you could choose from.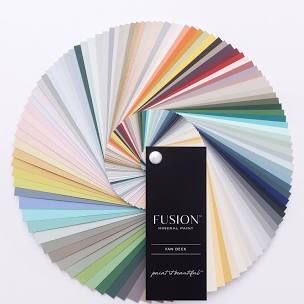 Take a look at our "Designed by Kimteriors" and "Designed by our customers" photo gallery for inspiration on what you could achieve with your furniture.
Everything starts with a consultation... so if you think that your furniture deserves a new outfit then click here to get in contact.